If you're anything like me, you might Pinterest all the most A-MA-ZING holiday crafts for your kids to create…and then never seem to have the time or energy to actually do them. Every holiday I think I will have more time or more energy than the last one and it just never seems to happen. After too many holidays of feeling like a kid's crafting failure, I have devised a whole new game plan for holiday DIY with kids. Here is my secret. I find the most simple…yet memorable…holiday craft and do exactly ONE of them. Yep, just ONE single craft. With this new strategy I have made the sweetest memories to look back on over the years while keeping my stress level at a minimum surrounding the holidays. These crafts are guaranteed to be easy for mom, fun for the kids and leave behind a memory that can be cherished for years to come when your littles turn into bigs.
Family Handprint Art
Moms all love handprints, right? I cherish looking back at handprint art and seeing how those sweet, tiny hands have grown over the years. This simple handprint craft is one of my most favorite ideas because it captures handprints from the whole family as a single precious moment in time.
Supplies: white cardstock (or thick) paper, four acrylic paint colors, 8×10 frame, marker
Saltdough Glitter Handprint
I did this craft one year and yes, it's slightly more work than a family handprint with paint, but these salt dough glitter handprints make the BEST gifts for grandparents, siblings, aunts, uncles, teachers and all those special people you may want to show some extra love to on Valentine's Day. I promise you won't regret this craft in ten years when you're budding teenager is giving you side-eyes 24/7…you can look back and reminisce to sweeter times.
Supplies: salt dough recipe, glitter, glue, paint, paintbrush, quick video (salt dough directions)
Heart Fingerprint Art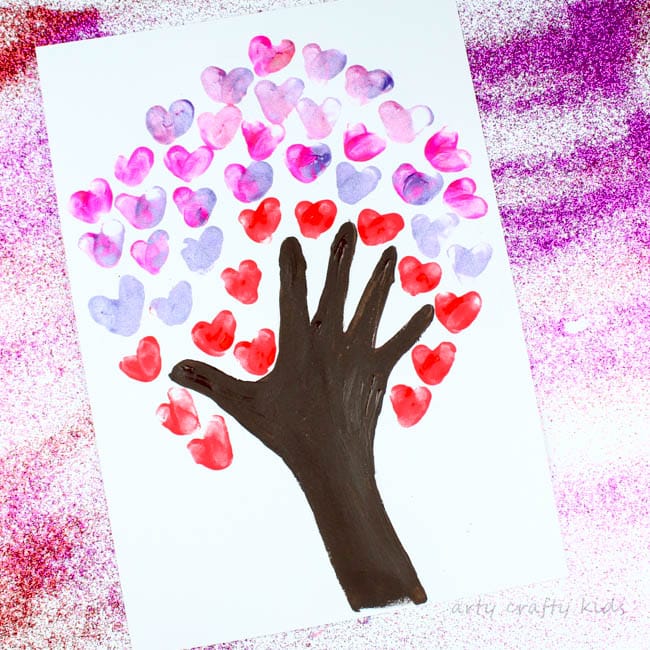 P.S. Sometimes my posts contain affiliate links. This is at NO extra cost to you. I support these products because I believe in their quality…not because I earn from qualifying purchases. See my disclosure policy for more details.
If you haven't discovered fingerprint art for kids, you are missing out…check it out…and you're welcome! (P.S. Grab some fingerprint-friendly ink pads too.) We are fingerprint art fanatics in our household and if you know us, then you have definitely received some form of fingerprint art from my kiddos. Some sweet Valentine's Day heart art is a great way to make some memories for kids of all ages. P.S. If you have young kids…and you are a control-freak perfectionist…try your hardest to take a step back and let the kids lead. From one perfectionist to another – you will look back and cherish all those imperfections much more than a parent-helped perfect heart.
Supplies: fingerprint ink, paper, marker
Eraser Heart Art

I stumbled across this sweet idea recently and added it to my must-do Valentine's Day craft list. This craft could easily work with each kiddo doing their own eraser heart or give each kiddo one color and have them both work on the same heart. Either way it is a simple craft and sweet memory.
Supplies: cardstock paper, paper heart cut-out, pencil with clean eraser, paint (fabric, acrylic, etc….pending medium)
Compliment Hearts
The first four crafts focus on saving memories for us mamas, but will our kids cherish those crafts? Maybe…and maybe not. Here is a sweet and thoughtful craft that your kids are bound to cherish throughout the years. All it involves is cutting hearts and a few written words. Easy! So, what is this amazing idea? Cut out 14 hearts (large enough to write a short sentence). Write a compliment specifically made for your child on the heart. It can be as simple as "You are sweet" to something more specific like "Your knock-knock jokes always make me laugh". Starting February 1st to February 14th tape one heart to your child's door each morning and watch their faces light up when they feel the love from you. What an amazing way to connect with your child each day in a thoughtful way. I know in our house we plan on making this "I love you because…" door an annual tradition and maybe your family will too!
Supplies: colored paper, scissors, marker
I hope this Valentine's Day is special for your family and you can look over at some simple and memorable craft from your kids and smile! What is your favorite holiday craft? Is there one you cherish over the all the others? Have you created any new family traditions based from holidays crafts? I would love to hear your thoughts!